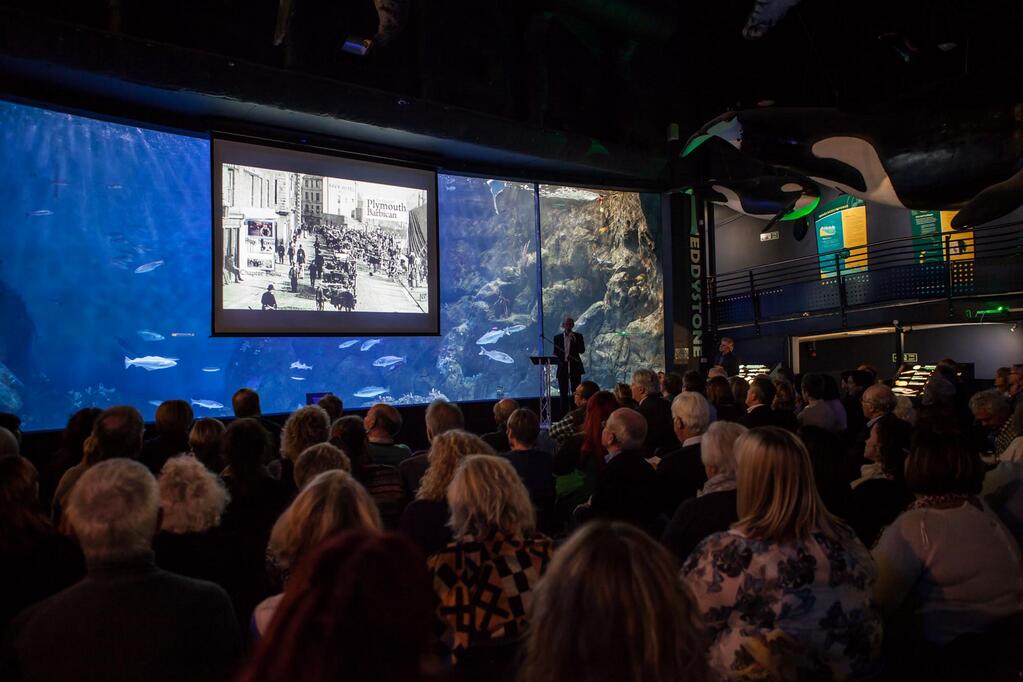 Pic © Alexander Thomas Photography 2013
The spectacular Eddystone Reef tank made a stunning – and appropriate – backdrop for the launch of the new DVD 'The Story of the Barbican' this week.
The evening was introduced by Dr David Gibson, the Director of the National Marine Aquarium who said he was delighted to be hosting the event and he was followed by the film-maker Alan Tibbitts, who has recently relocated from Exminster to the Barbican. However it is not the first film about Plymouth that he has been involved with, as, over the last 20 years, he and his friend and colleague Chris Robinson have now made ten full-length features on varying aspects of the City – many of which have been based around Chris's books.
Chris first opened his Barbican studio workshop 35 years ago this very week and has written over 20 books on Plymouth, including the Historic Barbican.
Responding on behalf of the City at the end of the showing, the Lord Mayor, Councillor Vivien Pengelly, said that as a former schoolteacher, she often took parties of children around the Barbican and was amazed at how little they knew about the area. "I only wish I there had been a film like this to show them then, I thought I knew the area quite well, but I've learnt a lot watching it. Everyone will enjoy learning something from this, we are lucky to have Chris and to benefit from the knowledge he has built up.'
Chris himself says that learning should be fun: "as Marshall McLuhan once put it 'anyone who tries to make a distinction between education and entertainment doesn't know the first thing about either'."
The Story of Plymouth Barbican traces the history of the area over the last 1,000 years, from a small 'inhabitation of fishers' through a booming Tudor town and then a crowded commercial harbour, to a bustling tourist destination, populated by pubs, restaurants, independent shops and artist's studios.
The film plots this heady transformation and, through the use of extensive archive material and contemporary footage, clearly demonstrates how much of the Barbican survived the war … but not the post-war planning.
Featuring the Elizabethan House and Gardens, the Merchant's House, Plymouth Gin, the National Marine Aquarium and much much more, the Story of Plymouth Barbican also includes a very rare – and a very candid – interview with Robert Lenkiewicz.
You can buy The Story of Plymouth Barbican on this website here and watch the opening sequence to the new film below: